What It Is
The Form 471 is an indication of which vendor has been selected to provide services and the amount of funding being requested
Lists selected service providers and eligible services that have been chosen as a result of the FCC Form 470
Identifies the eligible schools and libraries that will receive the services
Calculates how much funding support is being sought
Describes requested services and products in detail
Used to communicate the discount percentage to which the applicant is entitled
Certifies the applicant's compliance with program rules
When It Can Be Filed
The following timing constraints are applicable to the Form 471:
USAC announces an application filing window each year that generally opens about six months before the start of the funding year and is typically open for about two and a half months
The earliest date that a Form 471 can be filed will be the date established as the opening date of the Form 471 application window.
The Form 471 cannot be filed until the Form 470 has been posted for at least 28 days and a contract has been signed and dated. The Form 470 Receipt Notification Letter provides the Allowable Contract Date.
The form must be submitted by 11:59PM Eastern Time on or before the date that the application filing window closes.
The Filing Process
The following steps must be completed:
The applicant submits and certifies a completed FCC Form 471 using their EPC account


LEARN MORE

Learn more about the

Form 471

After the form is received, USAC issues an FCC Form 471 Receipt Acknowledgment Letter (RAL) to the applicant and the service provider
Program Integrity Assurance (PIA) reviews the form
USAC makes a funding decision on the application
USAC issues a Funding Commitment Decision Letter (FCDL)
Structure of a Form 471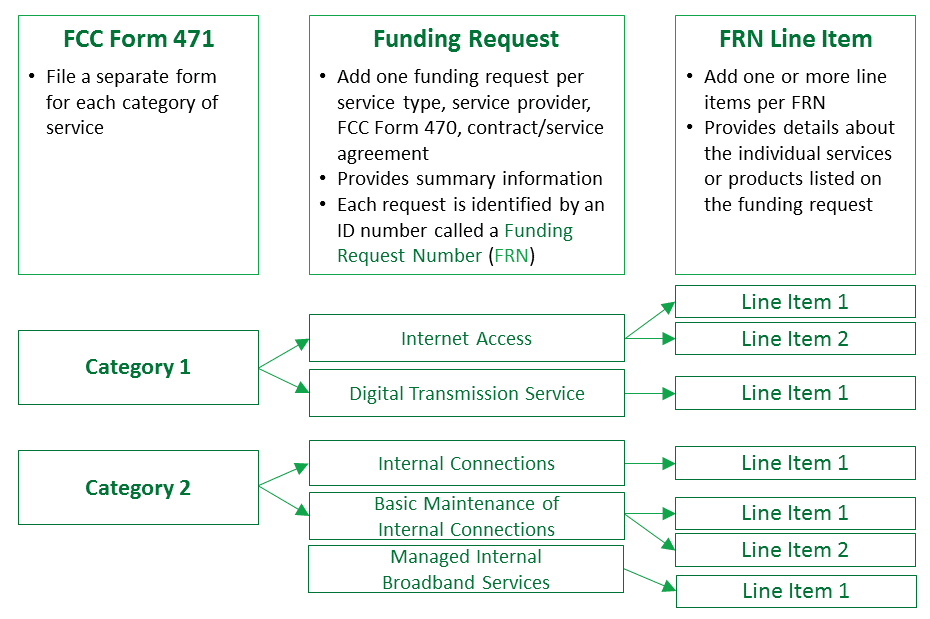 How Many Forms to File
You can organize your Form 471 filings into as many separate forms as works for you (such as filing a separate form for each service provider or each type of service).
File for Category One services and Category Two services on separate forms.
What to Save For Documentation
Save the following documentation:
Copies of mechanisms used to gather NSLP data
A copy of the completed Form 471
Any spreadsheets used to calculate projected costs
FCC Form 471 Receipt Acknowledgement Letter
A copy of all documentation submitted during review
Funding Commitment Decision Letter